Alkyl halides preparing, reactions, physical properties
When one or more halogen atoms (X = F, Cl, Br , I) bonds with carbon atoms alkyl halides forms.
There may be single bonds, double bonds, triple bonds between carbon atoms in alkyl halides.
Aliphatic or aromatic hydrocarbons which are halogen substitited are defined as alkyl halides. In this tutorial, we will lean about physical and chemical properties of alkyl halides.
Alkyl halides examples and nomenclature(IUPAC naming)
Some examples are CH3CH2Cl, CH3Br , CH3CH2I. CFC (Freon), HFC compounds which are used now in refrigerators instead of CFC are alkyl halides.
A/C gas - 1,1,1,2-tetrafluoroethane
More examples
Physical properties of alkyl halides
All alkyl halides are covalent apart tertiary halides and benzylic halides.
All alkyl halides are insoluble in water. But they dissolve in nonpolar organic solvents such as CCl4, Benzene, hexane.
First members in alkyl halide series are in gaseous state due to less molecular weight, but alkyl halides with high molecular mass are in liquid state.
C-X bond is polarized because electronegativity of Cl is higher than C. Therefore there are bipolar attractions between molecules. This results, having higher melting and boiling points for alkyl halides than corresponding molecular masses of alkanes.
melting and boiling points increase with molecular mass.
When halogen changes F to I, boiling and melting points increase.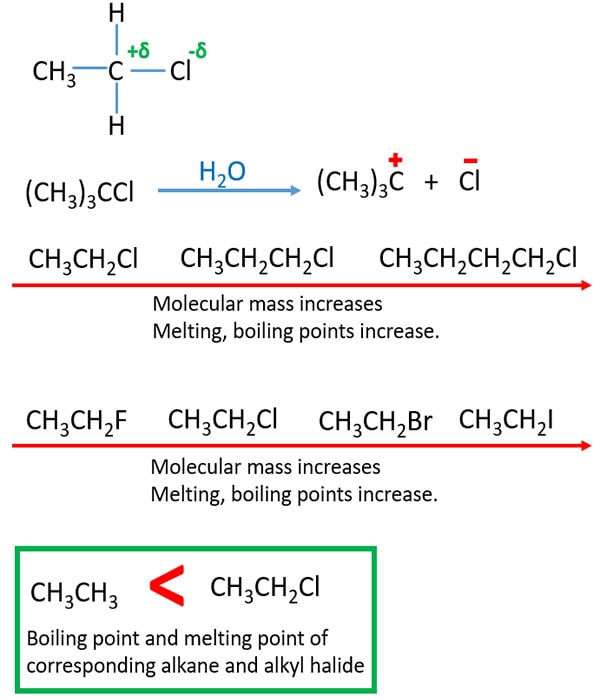 Fig 02: physical properties of alkyl halides
Aryl halides characteristics
When a halogen atom is connected directly to benzene ring, they are called aryl halides. py orbital of halogen interacts with benzene ring. Thus that C-X bond shows partial double bonds characteristics. Due to partial double bonds characteristics, that C-X bond is the strongest C-X bond in organic compounds. Therefore, aryl halides show a special inert behaviour and differ from the typical aliphatic alkyl halide compounds reactions.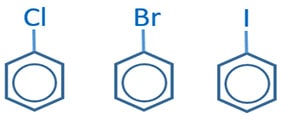 Fig 03: aryl halides
Preparing alkyl halides
Preparing alkyl halides by alcohols
Alkyl halide can be prepared by the reaction of halogen acids with alcohols. Hydrochloric (HCl), hydrobromic acid (HBr), Hydrogen iodide acid (HI) are halogen acids. Alcohols react with these acids and give alkyl halides. In this reaction , a halogen is substituted instead of OH.
ROH + HX → RX + H2O


NOTE: To occur the reaction easily with HCl, a catalyst ZnCl2 should be used.
Reaction rate of alcohols with HX

Preparing alkyl halides by alcohols with inorganic acid chlorides
Alkyl chlorides are formed by the reaction of alcohols and inorganic acid chlorides. Phosphorus(III) chloride (PCl3) or Phosphorus(V) chloride (PCl5) or thionyl chloride (SOCl2) are used as inorganic acid chlorides.
ROH + PCl3 → RCl + H3PO3
ROH + PCl5 → RCl + POCl3 + HCl
ROH + SOCl2 → RCl + SO2 + HCl

Alkyl halides chemical properties and reactions
Nucleophilic substitution reactions of alkyl halides
Carbon halogen bond (C-X) is polarized in alkyl halides. Therefore carbon atom gets a small positive charge(δ+). Hence, nucleophilic reagents react with that carbon atom.
When nucleophile attacks to the carbon atom, halogen atom is removed as a halide ion(X-). Therefore these reactions are defined as nucleophilic substitution reaction. When eliminated aqueous halide anion becomes more stable, the reaction gets easier to occur.
Nucleophilic substitution reactions - Alkyl halides
Aqueous dilute alkaline(NaOH, KOH) and alkyl halides
Aqueous cyanide(CN-) ions and alkyl halides
Preparing alkenes by alkyl halides
Alkenes are prepared by the reactions of alcoholic alkali(NaOH, KOH) and alkyl halides with heating. Halogen atom in the alkyl halide and a hydrogen atom in adjacent two carbon atoms are removed in this reactions to give the alkene , H2O and the salt(NaBr, KBr, NaCl).
Reaction of chloroethane, alcoholic KOH to prepare ethene

Reaction of 1-bromopropane, alcoholic KOH to prepare propene

If you use aqueous alkali instead of alcoholic alkali, halogen atom will be substituted by OH- ion.
CH3CH2Br + aqueous KOH → CH3CH2OH + KBr
Increasing the temperature and hydroxyl ion concentration will increase the eliminating reaction to give alkenes.

Prepare alcohols by alkyl halides
Alcohols are prepared by the reaction of alkyl halides and aqueous alkali. The halogen group is substituted by hydroxyl ion. In this reaction hydroxyl group behaves as a nucleophile.


Ethyl bromide and aqueous KOH

1-bromopropane and aqueous KOH

Prepare Grignard reagent by alkyl halides
Magnesium and dry ether is mixed with alkyl halide to prepare Grignard reagent. For keep Grignard stable, dry ether is essential. These Grignard reagents are used to extend carbon chains. In aqueous medium, grignard reagent slowly hydrolyzes and give hydrocarbons.


Bromoethane, Mg and dry ether

Bromobenzene, Mg and dry ether

Learn more about Grignard Reagent
Grignard reaction and alkyl halide reaction
Alkyl halide and grignard reagent react to give alkanes. This reaction can be used to extend carbon chain in organic chemistry.
Ethyl bromide and grignard reaction

Reaction of aqueous alcoholic cyanide ion solution and alkyl halide
Cyanide ion will replace the halogen atom. In this reaction, cyanide atom behaves as the nucleophile. First, carbon - bromine bond breaks and electrons of the bond are removed with bromine atom as the bromide ion. New carbon - cyanide bond is formed by the electrons which are provided by cyanide ion.


Bromoethane and aqueous alcoholic potassium cyanide

Reaction of ammonia and alkyl halide
Amines are formed by the reaction of Alkyl halide and ammonia. According to the amount of reactants primary amine or secondary amine or tertiary amine or ammonium salt are produced. If you use excess ammonia and less alkyl halide, primary amine is produced. If you use excess alkyl halide and less ammonia, it will give tertiary amine, ammonium salt is prepared.

Excess ammonia and less alkyl halide
Primary amine or secondary amine or mixture of these two can be given as products by the reaction of excess ammonia and less alkyl halide.

Less ammonia and excess alkyl halide
Tertiary amine or ammonium salt or mixture of these two can be given as products by the reaction of excess ammonia and less alkyl halide. Produced secondary amine reacts with alkyl halide and produce tertiary amine. If there is more alkyl halide, produced tertiary amine again reacts with alkyl halide to give ammonium salt.

Mechanism of ammonia and alkyl halide reaction
In this reaction ammonia behaves as a nucleophile and a base. And ammonia is a neutral molecule. First, ammonia molecule attacks the carbon atom which is connected to the halogen group. Halogen - carbon (C-X) bond breaks and forms a carbon - nitrogen (C-N) bond to give ammonium salt. Here ammonia behaves as a nucleophile. Second, a proton(H) which is attached to the nitrogen atom is attacked by another ammonia molecule. That proton is removed by giving electrons of N-H bond to nitrogen to give primary amine. In second step behaves as a base. Also ammonium halide is given.
Ammonia attacks alkyl halide to prepare ammonium salt

Ammonia attacks ammonium salt to give primary amine

Reaction rate of nucleophilic substitution reactions of alkyl halides
Reaction rate of alkyl halides depends on whether alkyl halide is a primary or secondary or tertiary and type of halogen. ( Cl, Br, I ).
Reaction rate variation according to halogen in alkyl halides
C-X bond length is increased when moving down in the halogen group. With increase of bond length, bond energy is decreased. Increment of reaction rate is caused by this bond energy decreasing.

Reaction rate according to the primary or secondary or tertiary alkyl halides
We consider primary, secondary and tertiary alkyl halides with same halogen. This reaction rate also depends on two factors.
Stability of carbocation
Steric impediment on halocarbon
Stability of carbocation
Carbocations holds positive charges. Carbocations are formed as intermediate compounds in the reactions.
If positive charge density is low, that carbocation show a stability.
That positive charge density depends on number of other alkyl groups which are around positively charged C atom and state of those alkyl groups. Alkyl groups (CH3CH2- , CH3- ) can release electrons.
Therefore alkyl groups can reduce positive charge of carbocation.
Also, when number of alkyl group increases, positive charge of carbocation decreases.

Steric impediment on halocarbon
To a reaction occur, two molecules should be collided with each other. So, molecules should come close to each other. If molecules cannot be reached closely enough, no reaction will be happened.
When number of alkyl groups are increased around halocarbon atom which is covered by those alkyl groups. Therefore ability of reaching of nucleophilic reagents to the halocarbon is reduced. So we understand now, when increment of number of alkyl groups, rate of reaction is decreased.
So tertiary alkyl halides have the lowest reaction rates and primary alkyl halide have the highest reaction rates.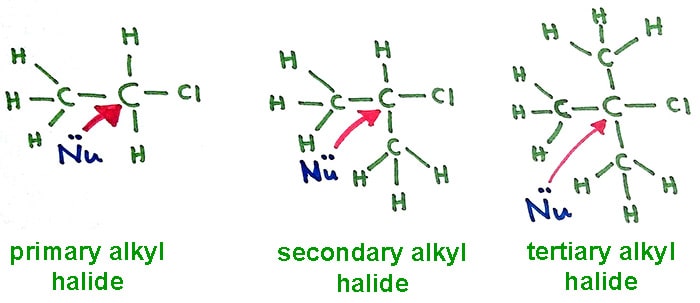 Sources and uses of alkyl halides
Chloroform, methyl chloride are used as solvents. Tetrachloroethylene, trichlorofluoroethane are used for dry cleaning processes. Ethyl chloride is used to manufacture tetraethyl lead which uses as antiknock agent in petrol.
Freons are used in refrigerators. Freons are fluoro halohydrocarbon such as CCl3F, CCl2F2.
CHBrClCF3 is used as an anesthetic.
Alkyl halides questions and example problems
In these examples, we use our knowledge about alkyl halides, alkane, alkene, alkyne. So you can get remembered previous lessons.
does but-1-ene produce a tertiary alkyl halide when reacted with hydrogen halide?
When but-1-ene reacts with hydrogen halide such as HBr, it forms 2-bromobutane. This is a secondary alkyl halide.
reaction not used to prepare alkyl halide from alcohol
Alcohol and aqueous HBr reaction
Alcohol and aqueous HCl reaction
Alcohol and PCl5 reaction
Alcohol and aqueoues HI reaction
Alcohol does not react wwith aqueous HCl. To connect a chlorine atom, you have to use anhydrous ZnCl2/ concentrated HCl mixture or PCl3 or PCl5.
will halides be eliminated from molecules in water?
You have learnt that there are three different kinds of alkyl halides. Carbocations of tertiary alkyl halides are much stable than primary and secondary alkyl halides. So halide is easily removed in tertiary alkyl halide molecule in the water and give alcohols.
Are alkyl halides soluble in water?
Alkyl halides have some polarity. But alkyl halides can't form hydrogen bonds with water. Therefore alkyl halides are not soluble organic compounds in water.
Prepare cynoethane from ethanol
You have to synthesis cynoethane from two ways using ethanol as the starting organic compound. Fill all blank squares with required reagents and product of each different reaction.