Reaction Engineering fundamentals
This subject involves mass balance, molar balance, energy balance and reactions of chemical constituents.
Typical tasks of Reaction Engineering
design of chemical process
Maintain and operate chemical processes
Fix problems in a reactor
Increase capacity of production
Where Reaction Engineering is applied?
in petroleum refining
In pharmaceutical industry
In microelectronics industry
A simple illustration of reactor system is shown below.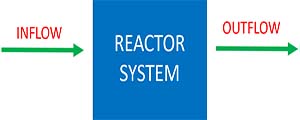 Explanation of reactor stystem
THINK!!!
There are four species ( A,B,C,D ) in inflow. All of them has different reactions as below in the reactor.
A + B → E + F
C + D → A + F
First reaction, A and B species are reacted ( amount of A and B is reduced. This is also called as consumption ).
But in the second reaction, A is formed again by reaction between C and D. Otherwise A is generated again in the reactor(Generation).
Reaction system types
Batch reactor
Continuous stirred tank reactor ( CSTR )
Plug flow (tubular) reactor (PFR)