Benzene Preparing, reactions, physical characteristics
Main source of benzene is petroleum industry. Benzene is a nonpolar solvent, but it is a toxic compound. Due to toxic behaviour of benzene, tolune ( C6H5-CH3 ) is used instead of benzene in many uses. Reactions of benzene are different from hydrocarbons. Benzene is prepared by several methods in chemistry. There are many uses of benzene in the chemical industry applications.

Physical properties of benzene
colourless
liquid compound in room temperature
Melting point : 5.50C
Boiling point : 800C
There is a harsh smell
Burns with high smoke
A good solution for non-polar substances such as I2, S....
Benzene's unsaturated behaviour
The corresponding saturated alkane for number of carbon atoms (6) of benzene is C6H14. But benzene has only six carbon atoms. Therefore benzene should be very unsaturated compounds. But benzene is subject to some addition reactions. As an example, by the catalytic hydrogenation, benzene gives cyclohexane. In this reaction six hydrogen atoms are added to the benzene molecule. Therefore we can assume there may three double bonds in the benzene molecule.
Kekule structure of benzene
Compare unsaturated of benzene and alkenes
Alkenes discolourize the liquid bromine and cold alkali permanganate solution. But benzene does not response to these reagents. Therefore we see like benzene is not unsaturated. So, we can understand benzene is not unsaturated as much as alkenes.
Thus, kekule structure cannot describe the chemical behaviour of benzene.
Preparation of Benzene
Benzene can be prepared by several ways. But we have to be careful when benzene is being produced due to it's toxicity.
from benzoic acid
Prepare benzene from Phenol
from diazonium salts
from acetylene
Prepare benzene from acetylene - actylene condensation
Send benzene through hot iron pipe. Here benzene is prepared by non aromatic compound. Three acetyle moles are send through hot Cu tube with catalyst condensation. Cu acts as the catalyst and benzene forms as the product.

Prepare benzene from benzoic acid
Benzoic acid is mixed with soda lime or solid Sodium hydroxide and heated. Benzene is given as carboxylic reduction. CaO and NaOH are used as sodalime mixture.

Prepare benzene from Phenol
Phenol and zinc dust is heated. -OH group is eliminated and benzene gives as the product.

Prepare benzene from diazonium salts
Benzene diazonium salts reacts with H3PO2 Or CH3CH2OH. Benzene is given as the product.

Prepare benzene from grignard reagent hydrolysis
Hydrolysis of any phenyl magnesium halide in acidic medium will give benzene as the product. If dilute sulfuric acid and phenyl magnesium chloride, benzene forms.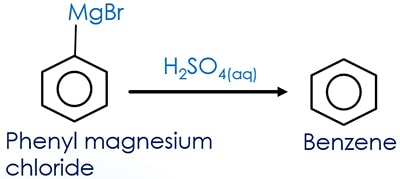 Benzene preparing summary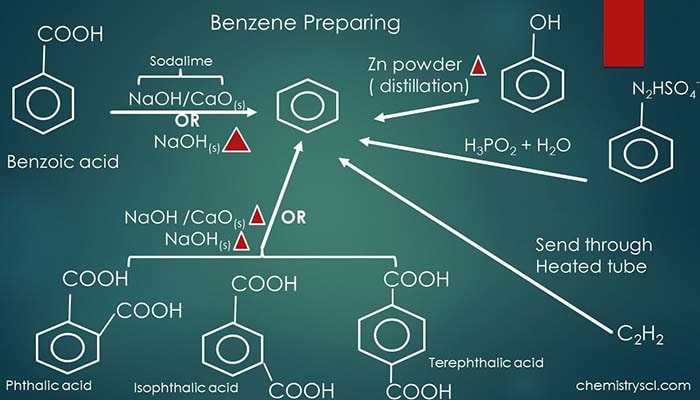 Reactions of benzene
Benzene shows following types of reactions
Substitution reactions
Addition reactions
Oxidation reactions
Substitution reactions of benzene
One or more hydrogen atoms in benzene ring get replaced by other atoms or groups. These substitution reactions are occurred through electrophilic substitution reaction.
Halogenation
Nitration
Alkylation or friedel craft alkylation
Acetylene or friedel craft acylation
Halogenation of benzene
A hydrogen atom in the benzene ring is replaced by a halogen atom(F, Cl, Br, I) is called halogenation. Lewis acids such as ferric chloride(FeCl3) or aluminium chloride (AlCl3) are used as catalyst and they acts as the halogen carrier. This reaction occurs through a electrophilic substitution mechanism.
benzene and chlorine with AlCl3
benzene and bromine with FeBr3
Alkylation or friedel crafts alkylation - Alkyl halides and benzene reaction
Alkyl halides react with benzene in the presence of anhydrous AlCl3, and gives alkyl benzene as a product. A hydrogen atom in the benzene ring is replaced by alkyl group.
benzene and chloromethane with anhydrous aluminium chloride
benzene and chloromethane react in the presence of anhydrous AlCl3 to give methylbenzene / toluene.
benzene and bromoethane with anhydrous aluminium chloride
benzene and bromoethane react in the presence of anhydrous AlCl3 to give ethylbenzene.
Acylation or friedel craft acylation - benzene and acid chloride reaction
Benzene reacts with acid chloride or acid anhydride and give acyl benzene in the presence of anhydrous AlCl3.
Benzene and ethanoyl chloride with anhydride aluminium chloride
Benzene and with Acetic anhydride with aluminium chloride
Nitration - concentrated nitric and sulfuric acids with benzene reaction
A hydrogen atom in the benzene ring is replaced by a nitro(-NO2) group is called the nitration. this reaction is carried out by heating benzene with the nitrating mixture of concentrated nitric ans sulfuric acids at 500C.
Ortho, para, meta positions of benzene
When hydrogen atom or atoms in the benzene ring are replaced by another atom(s) or group (X = Cl, Br, NO2, OH, NH2 etc), we name positions of carbon atoms of benzene ring as ortho, meta and para related to the position of X. Electrons density of those ortho para meta positions are different. Electrons density of some positions will increase and in some positions decrease. Therefore position of attaching another group to carbon ring(substituting instead of H) is changed according to the position of carbon atom. As a example, phenol, aniline increases electrons density in ortho, para locations. Electrons density of ortho para positions in nitrobenzene is less than meta position. This phenomenon can be explained by resonance effect.
This ortho, para, meta positions are important when we study about substituting reactions about benzene.
Phenol and aniline - ortho para directors
Phenol and aniline are ortho para directors. That means substitution mainly occurs in ortho para positions in the benzene ring.
Products of ortho para directors
Ortho para directors give major product as ortho-product and para product. As a minor product meta product is given. You will get a mixture of products.
Ortho para directive compounds
Phenol
Aniline
Toluene
Chlorobenzene
Meta directive compounds
Benzoic acid
Nitrobenzene
Benzaldehyde
Addition reactions of benzene
Addition reactions occur under more drastic conditions(higher temperatures, higher pressures) because extra stability of the delocalised Π electrons.
Addition of hydrogen(catalytic hydrogenation)
Benzene reacts with hydrogen in the presence of nickel or platinum catalyst at 2000C, 3000C under pressure to form cyclohexane.
Addition of halogens
Benzene reacts with chlorine(Cl2) or bromine(Br2) in the presence of sunlight to form hexachloride (BHC).
Methyl benzene or Toluene reactions
Toluene (methyl benzene - C6H5CH3) is a good solvent and used instead of benzene due to toxicity of benzene). Toluene is a ortho para director and activate the benzene ring.
Toluene and bromine reaction
Toluene and bromine react in the presence of anhydrous FeBr3 and give ortho and para products mixture. These two products can be separated by fractional distillation.
Oxidation of alkyl side chain
The alkyl side chain in benzene can be oxidized by strong oxidizing agents such as hot H+/KMnO4 or hot H+/Na2Cr2O7 or concentrated HNO3. With strong oxidizing agent, the alkyl chain is oxidized into carboxylic acid group. But with mild oxidizing agents such as acidic manganese dioxide(MnO2) or chromyl chromide(CrO2Cl2), alkyl group is oxidized into aldehyde group.
Methylbenzene and hot H+/KMnO4
Methylbenzene reacts with hot H+/KMnO4 and gives benzoic acid as the product.
Ethylbenzene and hot H+/KMnO4
Ethylbenzene reacts with hot H+/KMnO4 and gives benzoic acid as the product.
Xylenes and hot H+/KMnO4
Xylenes reacts with hot H+/KMnO4 and gives phthalic acids as the products.
Toluene and MnO2 or CrO2Cl2
Toluene reacts with MnO2 or CrO2Cl2 and gives benzaldehyde.
Questions of Benzene
Is benzene a toxic compound?
Yes. Benzene is toxic compounds. It has benn found that benzene causes to cancers. Due to this toxicity of benzene, use of it is limited. Toluene is used instead of benzene.
What is the shape, bond length, angle of benzene
According to the X-rays diffraction, it is found that shape of benzene is analogous hexagon. Bond angle of C-C-H is 1200C. All C-C bond lengths are same(0.139mm).
how to synthesis salt using different benzene numbers
Question is not clear. As salts which contais a benzene group we can list sodium benzoate, sodium phenate.
Summary of benzene reactions
Related tutorials to benzene